I have an Imagine and Love her. She has been a little monster of late but now I'm going to take control and bring her to task.
With the new update I can now work along side her with my Gypsy, but for the moment I'm going Play around with her and all the carts and she what she can really do.
She not at 100% at all but I'm going to walk slowley and I hope you will pop in from time to time and see how were both going.
So to start, here is a card, too you all My new found friends and this fab forum.
Cardstock- Stampin Up & Melody Rose (from the Range)
Cart- Better Together
The main Image is cut at 4". there is a layer feature on the Imagine so I choose to just print & cut the Hair of both Girls. The issue I'm having at the moment with the I is that the cuts are slighty off but there still alot better than if I'd cut them free hand.
These issues are being dealt with so I'm going to wait patiently.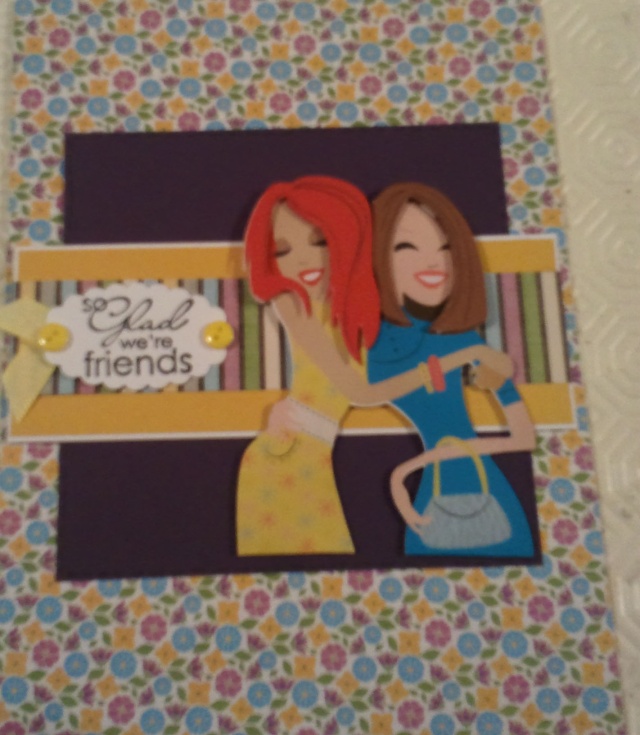 Last edited by chris on Mon Mar 14, 2011 1:15 am; edited 1 time in total

chris




Posts

: 94


Join date

: 2011-01-01


Location

: Shropshire



Glad you are enjoying your Imagine Chris. I love your card, it reminds me of my nieces and they are skinny too
Lovely card Chris, I am glad you managed to sort out how to post on the MB!!!!!!!

Pam




Posts

: 239


Join date

: 2011-01-02


Location

: Lake District



Wow Chris, you have been busy. I love the card. Are you happy with the ink cartriges? Are they refillable?


Thank everyone for your kind comment about my card I made it for a special friend who walked into my life a few years ago, when my Best Friend of 35yrs walked away from our friendship.
carol I do belive they are refillable, I dont need to buy any at the mo but will consider doing that.
I once looked that skinny
but left it back in the last century
Chris xx

chris




Posts

: 94


Join date

: 2011-01-01


Location

: Shropshire



---
Permissions in this forum:
You
cannot
reply to topics in this forum